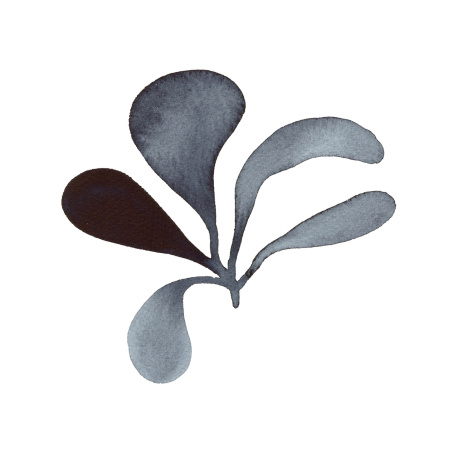 Copenhagen based illustrator Silke Bonde's prints are soft, subtle, almost evanescent. Her mantra is 'simple is beautiful, less is more'. She is an educated e-designer and in 2015 she finished her final thesis in Brand Design. Silke is inspired by aesthetic clean lines from the Scandinavian design history which reflects a sophisticated way of thinking. Nordic landscape, colour palette and cutting off the unnecessary are the key building blocks in her work. Her art prints will lighten up any room and add a contemporary touch to your interior.
Our Silke Bonde range consists of few watercolour prints from two collections: 'Under Water' and 'Looking closer'. More details on each of them in the product's description.
The Beginning of Silke Bonde – art & design:
-       What is the background behind your brand? When did it all begin?
I have always been a creative person who enjoyed creating small projects at home. During my childhood I had plenty of room for my small projects, and I have always had different artistic tools to amuse myself with. When I went to school as a child my teacher referred to me as 'the creative one in the class', and I remember that I liked that title. 
In a long period of time, I did not know what career path to choose: First I thought that I wanted to go into advertising since I liked to get ideas and brainstorm for new projects, as for instance in creating commercials. Later I realized by talking to people in the business that I wanted something else. After moving into my first apartment in Copenhagen, I started to work on my own projects and to make my own paintings. Meanwhile I started studying entrepreneurship- design at Copenhagen school of Design and Technology. My mother-in-law suggested that I started a blog where I could share my work. So I did. I wrote about other designs but I also shared my own work and art as well. The blog gave me a peep into the window of the design world as I was invited to different PR-events, just as I started to work on my own things. By that time I took a PBA in Brand Design at the same school. Time by time I was contacted by people who wanted to buy my art, which led to the opening of my webshop in 2013. So from there my business has developed into different collections, lots of new retailers, social platforms and all together my own coherent brand. 
Words by Silke Bonde
Text by Christine Rohde
Produkty