Rycina 52x43 cm ATLANTIC WAKAME Seaweed Collection
Superfolk
Rycina 52x43 cm ATLANTIC WAKAME Seaweed Collection. Atrament na bazie wody na ręcznie robionym japońskim papierze washi o gramaturze 50 gramów z obniżoną krawędzią
| | |
| --- | --- |
| Wysokość.H | 52 |
| Głęb.Szer.W | 43 |
| Motyw | Rośliny, Owoce, Warzywa |
| Materiał | Papier |
| Kolor | Zielony |
Ten produkt nie występuje już w magazynie.
Produkt na zamówienie ok. 21 dni roboczych
0 Przedmiot Przedmioty
Data dostępności:
Rycina 52x43 cm ATLANTIC WAKAME Seaweed Collection.
Przynieś morze do domu; kolekcja botanicznych odbitek inspirowanych jasnymi porannymi wodorostami zbierającymi się w lodowatych wodach Atlantyku. Zawieś się jako zestaw lub zrób jedno odważne oświadczenie. Wyraziste, eleganckie kształty łagodzą delikatne wariacje kolorystyczne. Każdy blok drukowany jest wycinany ręcznie i ręcznie drukowany na 50 gramowym ręcznie robionym japońskim papierze washi z Awagami Factory w Tokushima w Japonii, gdzie produkują papiery washi od ośmiu pokoleń. Ukierunkowany nadruk na papierze Washi
Materiały: Atramenty na bazie wody na ręcznie robionym japońskim papierze washi o gramaturze 50 gz obszytym brzegiem.
Rozmiar: 52 x 43 cm. Pasuje do naszej średniej wiszącej ramy.
Zakres odcieni kolorów: Ciepła zielona ochra kontrapunktowana błyskami chłodniejszej zielonej ochry, surowy umbr z zielonymi odcieniami na liściach.
Szczegół: Nasz najnowszy nadruk z serii wodorostów. Każdy nadruk wykonywany jest ręcznie w naszym studio na zachodnim wybrzeżu Irlandii.
Produkt ręcznie robiony, odmiany kolorów tuszu są unikalne dla każdego wydruku.
Ręcznie podpisany i opatrzony datą przez drukarnię.
Channelled Wrack (Pelvetia Canaliculata)
Common names in Ireland including Dulamán, Caisíneach and Cow-tang,  The smallest of the 'wracks', it 10-15cm at maximum length. Find it growing on the tops of rocks in the upper shore and splash zones. Spotting Channelled Wrack marks the location of the full reach of the high tide. Channels or gutters on the fronds hold water allowing it to survive long periods without water cover. As Spring turns into Summer Channelled Wrack changes from a dark brown to olive to mustard yellow. In Summer its forked fronds open into fruiting tips. It is one of the most accessible as well as versatile and tasty of the Seaweeds. It combines well with sweet ingredients;  try cooking in apple juice and add soy. Strong similarity to Japanese Hijiki and can ack as a substitute in recipes. Best collected early in the year when plants are young and tender.
Bring the sea home;  a collection of botanical prints inspired by clear bright mornings  seaweed foraging in the ice cold waters of the Atlantic. Hang as a set or make a  single bold statement. Crisp, elegant shapes are softened by delicate colour variations. Each print block is cut by hand and hand printed onto a 50gr handmade Japanese washi paper from Awagami Factory in Tokushima, Japan, where they have been making washi papers for eight generations. Channelled Wrack Print on Washi Paper
Materials: Water based inks on a 50gr Handmade Japanese washi paper with deckled edge.
Size: 52 x 43cm. Fits our Medium Hanging Frame.
Colour Tone Range: A warmed green ochre counterpointed with flashes of a cooler green ochre, raw umber with green undertones on fronds.
Detail: Each print is made by hand in our studio on the west coast of Ireland.
A handmade product, ink colour tone variations are unique to each print.
Hand signed and dated by the printmaker.
Atlantic Wakame (Alaria Esculenta)
Atlantic Wakame (Alaria Esculenta) is also known as dabberlocks, bladderlocks, henware, murlin, winged kelp or simply alaria. Japanese Wakame is closely related. The long yellowish-olive fronds of Wakame can only be found close to the lowest water mark on freezing cold, exposed northern shores. Dried Wakame is good in soups and sauces and as a wrapping for fish. Alternatively marinate and chop into salad.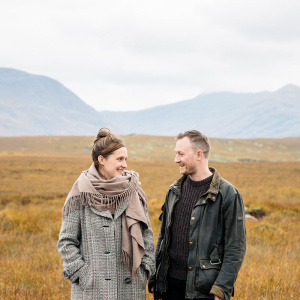 Superfolk Studio
We are a team of designers and makers, recognised internationally for designing simple, beautiful material-led objects. 
Our design studio is led by the husband and wife team of Gearoid Muldowney, a craft designer and Jo Anne Butler, an artist and architect. Our mission is to share our passion for our environment is deeply infused in all we do. We believe in breaking down the walls that contain us and uncovering the strange, wild beauty of our natural world.
Więcej