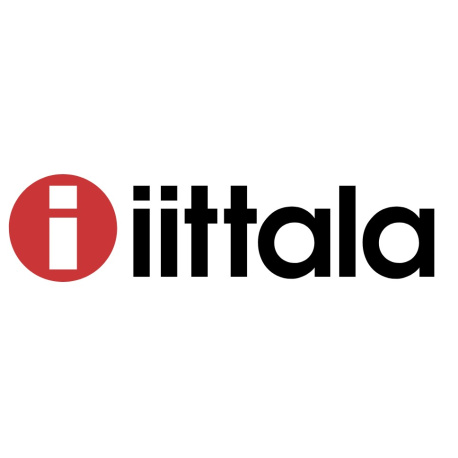 What started as a glass factory in Iittala, Finland, today celebrates generations of essential objects that are made to enrich people's everyday lives. We believe objects should be distinctive, combinable and multi-functional, with lasting design that inspires individual use and expression.

As a company based in Finland, where quality, aesthetics and functionality are important values, Iittala believes in interior design that lasts a lifetime. The progressive philosophy of our design heroes, Kaj Franck and Alvar Aalto, still inspires us to keep Iittala forever relevant.

We don't just create beautiful objects. We believe in timeless design that will never be thrown away.
The roots of Iittala date back to 1881 when a glass factory was established in a village of the same name in southern Finland.

In its early years Iittala produced blown, pressed, polished, painted and etched glass according to continental models.

In the beginning of the 20th century dinnerware was decorated with a variety of ornaments. Iittala was one of the first companies to make the transition from decorative dinner sets to functional, aesthetically pleasing objects infused with progressive Scandinavian design.
The breakthrough came in the early years of modernism and functionalism during the 1930s and 40s. At that time it was pioneers like Alvar Aalto, Aino Aalto and Kaj Franck who led the development of the Iittala brand. Their belief was that objects should always be designed with thought and make them available for everyone. It was Aalto's and Franck's thinking that set the foundation for the Iittala design philosophy: to push the boundaries and to give people beauty and function.
This breakthrough in Finnish design, also changed glassware ranges led by Iittala in the 1950s and 1960s. A new kind of aesthetics and functionality affected Finnish glassware design while most other countries still used traditional, extensive glassware ranges. A simplified, modern design took over from cut crystal.
The core idea behind Iittala is to offer aesthetically and functionally durable products that bring enjoyment and pleasure to everyday life, whether it is about dining, creating a mood or storing small items at home.

All Iittala objects are thought through in form, function and quality. All aim to achieve long-lasting everyday use and inspiration. Iittala objects are designed to be combined, with different designs across series, as well as with existing home environments.

We believe people have the right to expect the design they buy to last a lifetime. We also see that the world is becoming more and more aware of the value of long-lasting design.

We believe quality never goes out of fashion. The effort put into quality design has paid off: the Iittala collection includes not only new design but also items that have been around for more than 80 years.
At Iittala, we believe that knowledge of materials, production methods and end-user insight result in lasting, timeless design objects. To design colours and form that are inspiring yet easy to combine is the core of Iittala's craftsmanship.
Highly-skilled, experienced professionals in every part of the design and production process are essential in making Iittala what it is. A vast amount of human skills, effort and thought is required to create an object of quality.

The road from an idea to a finished product is a close collaboration between designers and glassblowers.

Craftsmanship forms the basis of all Aalto vases, which are mouth blown every day at Iittala, Finland. For instance, it takes a team of seven skilled craftsmen, twelve work stages, 1100 °C and 30 hours to take an Aalto vase through all its steps in production.
Each team member goes through years of intense training in the many areas of glass craftsmanship in order to learn the skills to create the vase. And yes, every single Aalto vase is unique.
The craftsmen of the Iittala glass factory have dedicated themselves to keeping the Iittala tradition alive. When the timing is just right, the craftsmen take hold of a pipe, begin to twirl, lift and blow it.
Produkty