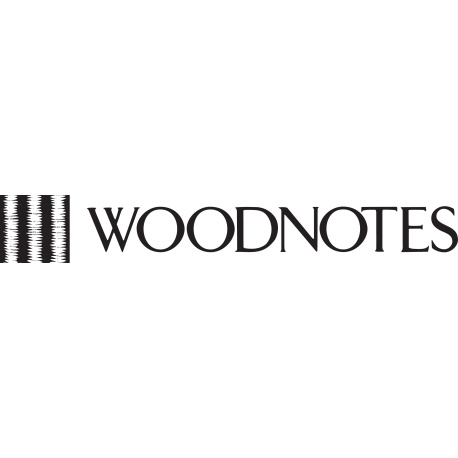 KNOWN FOR ITS RIGOROUS STANDARDS, THE FINNISH COMPANY WOODNOTES DESIGNS AND MANUFACTURES PRODUCTS AND CONCEPTS  INSPIRED BY PAPER YARN FOR HOMES AND PUBLIC SPACES. 
Woodnotes is a Finnish design company founded in 1987 by textile designer Ritva Puotila and her son Mikko Puotila. The company is still owned by its founders. 
The original concept behind Woodnotes products was to combine artistic creativity inspired by Finland's rugged nature with advanced technologies to shape of Finnish raw materials: wood and paper.  Woodnotes is the first company in the world to use paper yarn in a contemporary way in functional textiles. Ritva Puotila wanted to use paper yarn because of its properties – to make the most of its unique characteristics, not as a substitute for other materials. 
The Woodnotes collection, which has expanded over the years from carpets made from paper yarn to a comprehensive concept, is augmented every year with new, relevant, and innovative products. 
Woodnotes products are recognized around the globe for their elegant design and superior quality. The company currently exports 70% of its production to over 40 countries. Woodnotes products are sold at higher-end interior design and design retailers. 
Woodnotes products have won numerous international awards. 
WE RESPECT THE ENVIRONMENT BY PRODUCING TIMELESS PRODUCTS AND CHOOSING OUR MATERIALS AND PRODUCTION PROCESSES CAREFULLY. 
Woodnotes has specialised in the development and refinement of spun paper yarn. 
Environmental concerns play a central role in all of our production activities and those of our partners as well. The paper yarn used by Woodnotes has been spun from durable heavyweight paper that can be recycled or burned to produce energy. Our products are biodegradable. Our white paper is produced without the use of chlorine gas, and the dyes used to colour our yarn contain neither halogen-organic compounds nor heavy metals. Woodnotes and our partner companies are continuously searching for new methods to improve our ecological competitiveness. 
WOODNOTES HAS SPECIALISED IN THE DEVELOPMENT AND REFINEMENT OF SPUN PAPER YARN. 
Woodnotes has specialised in the development and working of spun paper yarn, which is used as material in the production of almost all Woodnotes products.  Paper yarn is an authentic, natural material composed of an ecologically produced renewable resource: wood. 
...The strength and durability of the yarn results from wood fibres. Paper is both hygienic and safe. Due to the density of the fibres, paper yarn collects neither dust nor dirt – an important property, especially for those who suffer from allergies. The paper yarn is spun from kraft paper, which is also used as a raw material in food packaging. 
Woodnotes' paper yarn products are biodegradable, and our white paper is produced without chlorine gas. 
PRODUCT DEVELOPMENT OFFERS SIGNIFICANT CHALLENGES BUT INSPIRES DESIGN AS WELL. 
The production and technological know-how of three partner companies stand behind Woodnotes quality: mastery of spun paper yarn, expertise in weaving and sewing, and manufacturing of a unique collection of products through customized industrial production. Thanks to this expertise, it is possible to create products with unique aesthetic properties, allowing us to realize the artistic vision of our company. 
Close cooperation with the spinning mill allows us to continuously improve the quality of our raw material. Product development in cooperation with the weaving and sewing factories ensures production and product quality. Product development offers significant challenges but inspires design as well. By combining the development of raw materials with that of weaving technologies, it is possible to expand our product catalogue and bring new, innovative products to market. 
SOFTNESS OF WOOL, PURITY OF PAPER, GLOW OF METAL - PRODUCTS OF A RARE AESTHETIC QUALITY. 
The natural beauty of spun paper yarn is refined to produce timeless products of a rare aesthetic quality. The characters of pure natural materials are expressed in clean, long lasting geometrical figures. All Woodnotes products reflect strongly the spirit of Finnish design: simplicity, harmony and functionality. 

The everyday beauty of Woodnotes products is the key to counterbalancing the massive information flow of the modern world.
Hanna Korvela Design
Life is filled with sensation. Life is feeling the touch of different materials, sensing the scent of cleanliness, hearing both sounds and silence, tasting different flavours.

Hanna Korvela Design was created fifteen years ago, inspired by the human senses and born of respect for them. The first product of this textile design company, the Duetto carpet, showed a strong awareness of Nordic interior design traditions, high quality, ecological awareness, and modern shapes.

Today, Hanna Korvela is one of the largest and most respected carpet design companies in Finland. The foundation of the company's internationally recognised product range consists of woven carpets of paper yarn and cotton tricot, luxurious tufted woollen carpets, and lighter rya rugs. In addition, the company produces other decor accessories, such as place mats and table runners of paper yarn as well as festive white candles.

Hanna Korvela  represents pure materials, clear shapes, high quality, and harmonic beauty whose strength never ceases to impress, year after year and decade after decade.
Produkty